It is very obvious that there was a forced liquidation at the beginning of today's market session and also parts of the morning. There are some securities out there that were clearly force-sold at the bid. Unfortunately when I am scouring the entrails of this market vomiting, I still don't see anything terribly compelling that is at insanely clearance prices. There are discounts, but nothing on wholesale liquidation at present. While my expectations might be too high, I remember when Sprint corporate debt was trading at 30 cents on the dollar during the 2008-2009 economic crisis. I don't expect these types of discounts on large cap corporations, but something close would be nice.
That said, I believe this episode of market panic will end shortly and we'll probably get some form of a "dead cat bounce". I find it interesting that despite the fact that Japan went through exactly the same thing that China is going through presently that North American equity markets continued to rocket upwards.
China's Shanghai index also, despite everything happening recently, is still up year-to-date.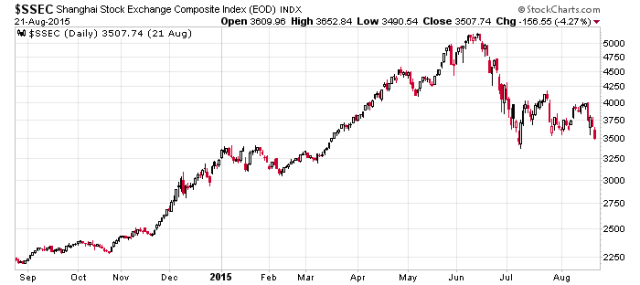 Days like today are a good reminder why one holds cash – even if you were invested in "safe" securities, liquidating safe securities in market panic situations is not easy – you will still receive adverse pricing due to the bid-ask spread.