The Keg chain of restaurants were acquired today by the owner of Harvey's and Swiss Chalet (both of these names are much more prominent in Ontario than they are in British Columbia). In general, this does not bode well for food quality, but it does bode well for the continued corporatization of the brand name.
More specific to Canadian investors, the Keg Royalties Income Fund (TSX: KEG.UN) is one of those few royalty funds remaining. It's sole purpose in life is to distribute cash obtained by its 4% revenue share in anything that the Keg sells. It was interesting to see its reaction to the news today: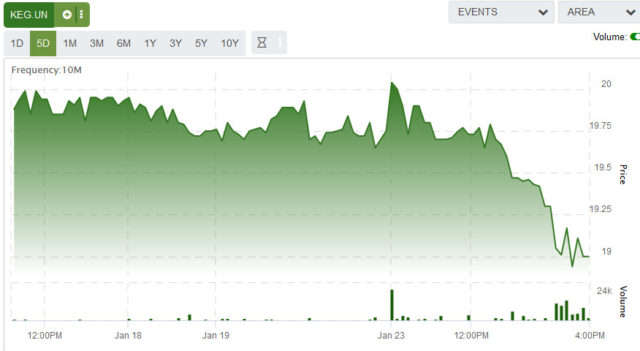 The market believes the buyout is a revenue-negative event for the Keg.
Financially, KEG.UN is easy to analyze. The trick for an investor is determining the proper fraction to pay for the royalty income (currently investors are purchasing a KEG.UN unit in exchange for $1.13 of distributions, which at a $19/unit price means a 5.95% ratio), plus factoring in the future trajectory of the Keg franchise's gross sales.
Personally the last time I ate at the Keg was 2009.