I've written a lot about this in the past, but Canadian real estate in urban centers is simply about too much capital chasing too little yield. Financially it makes sense to borrow at 2.83% like REITs such as Rio-Can (unsecured debt!!) and turn it around and invest it in a real estate yield product at 5.8% and pocket the difference in income.
This only becomes dangerous when credit markets start shutting down and you're facing a cascade of debt maturities, or the collateral backing your loans (in this case, real estate) has a material mark-to-market drop (and then your debt leverage ratios will go out of whack and nobody will want to lend you money).
So I will bring your attention to interest rates. I'm fairly convinced at this point that until interest rates start rising (or we start seeing provincial governments enact serious foreign capital restrictions that can't be easily bypassed like it is in British Columbia) we are not going to see any collapse in real estate pricing in Canada.
However, the US Federal Reserve is going to start to rise all boats fairly soon, and this will likely have knock-off effects in the rest of the world, including Canada.
I'm looking at Canadian interest rates at the Bank of Canada, and notice those longer term yields start to creep up again – 5-year government bond rates are at 1.23% and the trend on yields are seemingly upwards.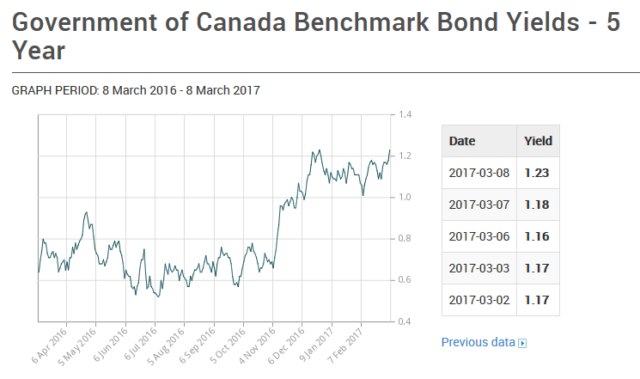 It remains to be seen whether this is white noise or whether this is the start of a trend, but it is something worth watching. If interest rates normalize to something resembling historical standards (e.g. 2% higher than present levels), Vancouver residential real estate that is currently renting for a 3% cap rate would be selling for a 5% cap rate – the result would be a 40% drop in price. This is not a prediction, it would be financial reality if a 2% rate increase occurred. Leverage has gotten to the point where such a change in interest rates would cause significant financial dislocation and this is likely why central banks are very afraid to make sudden changes to short term rates.