What a difference a year makes for Bombardier's (TSX: BBD.A, BBD.B) credit profile: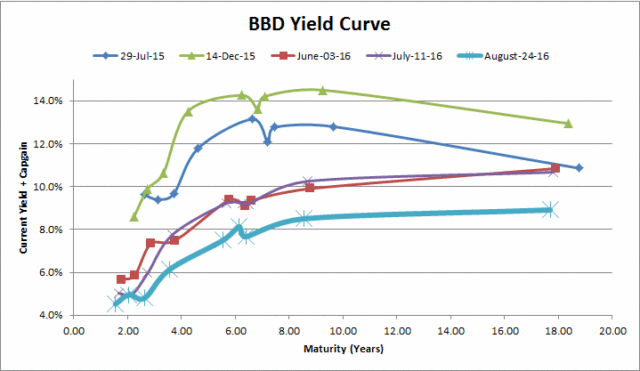 Their credit profile over the last year has improved considerably – they can now tap debt capital from the market at reasonable rates. Right now the closest comparable is the 8.5 year maturity for 8.5% yield.
The market is clearly believing that their solvency concerns are over. This would likely get cemented (and yields will compress even further) on successful deliveries of CS100/CS300 jets to their customers, of which two are already delivered and 356 are currently in the pipeline.
The more junior preferred share (TSX: BBD.PR.C) with a 6.25% coupon is trading at a current yield of 9% (eligible dividends), which should continue to go lower as confidence increases in the firm's ability to be financially sustainable with the C-series. The rumours of the pending Learjet sale would also be an injection of capital if it did occur, but it does not appear that this is necessary, nor is the rumoured injection of capital by the Government of Canada (although this might occur to give future customers the impression that the government will not let the company fail).
The common equity remains pinned around CAD$2/share, and there is considerable overhang from the warrants issued from the two Quebec financings. I doubt that there will be cash dividends on the common shares until the turn of the next decade.