I couldn't help but notice that I signed up some time ago to be informed when Canada's peer-to-peer lending service, CommunityLend, would go active. The service is otherwise very similar to that of Lending Club and Propser – people can bid on other people's loan requests and the lenders get charged a 1% fee on the money they receive, while the borrowers have a significantly larger charge depending what credit bracket they are in. On the front page of CommunityLend, they advertise that you can borrow money with a 6% to 29% return: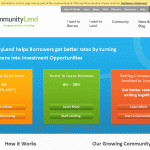 Right now you can only lend money through CommunityLend in the provinces of Ontario and Quebec, although they are trying to expand to other provinces. The other hitch is that you have to be an "accredited investor", which is a securities legislation definition of an investor that can legally purchase securities while waiving the standard legal protections that you would otherwise get if you weren't exempt from the accreditation criteria.
The only issue for CommunityLend is that the easiest way to qualify to being an accredited investor is having net financial assets of greater than $1,000,000, or to be a registered adviser. Just by this stratification, which was likely discovered during the consultation process with the respective provincial securities commissions, the lenders are going to be a much smarter breed of people. Judging that the risk taken by people using the Canadian peer-to-peer lending facilities aren't going to be any less riskier than those using the US equivalents, I would guess that interest rates received on loans will be slightly higher simply because you will have less people bidding rates down.
My prior statement about peer-to-peer lending remains the same:
There is educational value for people to invest small (and I mean small) amounts of money just to demonstrate how difficult it is to make money even when allured with the promise of high rates of return. Instead of a return on capital, the return of capital becomes paramount in the loan business.
Just to give future investors some sort of barometer, you can pick up corporate debt from relatively stable and smaller publicly traded corporations with a 3 year maturity for about a 9% yield to maturity. Thus, anybody bidding for unsecured consumer debt at a 6% interest rate should get their heads checked.