John Hempton of Bronte Capital writes very entertaining articles. Most of his extensive postings are about companies that have "issues", such as his strong suspicions of financial wrongdoing at the Chinese company Universal Travel Group (NYSE: UTA).
His latest spread is regarding Northern Oil and Gas (NYSE: NOG), which I found thoroughly fascinating, for a few reasons.
The first reason is that my earlier article on Petrobakken (TSX: PBN) and its steep decay rate of oil flowing from newly drilled Bakken-shale wells assisted his thinking with respect to NOG's depletion rates. He is very gracious to link to my article.
The second reason is that apparently the rest of the market has "picked up" on Northern Oil and Gas' low rate of expending of depletion and has decided to price this in (note the article hit the wires on Tuesday, although it seemingly was digested on Wednesday):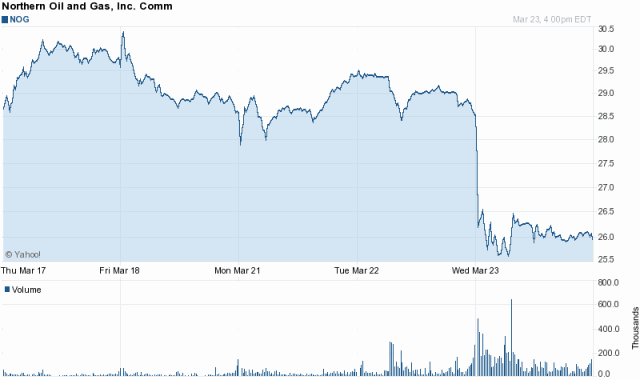 Interestingly enough, before this all hit the wires, NOG had about 20,000 shares available for borrowing at Interactive Brokers. Today there are none.
Thirdly, he writes good analysis. There is good reason to be skeptical of NOG's management and their intentions. Even disregarding that, it does appear the valuation of the company is well above fair value. That said, the company's balance sheet does show a net cash position (assuming those balances are truly there!), so the shares are most certainly worth something, unlike most of the other likely frauds that Hempton has been writing about.
Disclosure: No positions in any stocks mentioned in this article, nor do I intend on opening any. I'm watching this purely for entertainment value, although others likely have money on the line.