Canadian Oil Sands (TSX: COS) had a wild day after their year-end report and upcoming projections for 2015.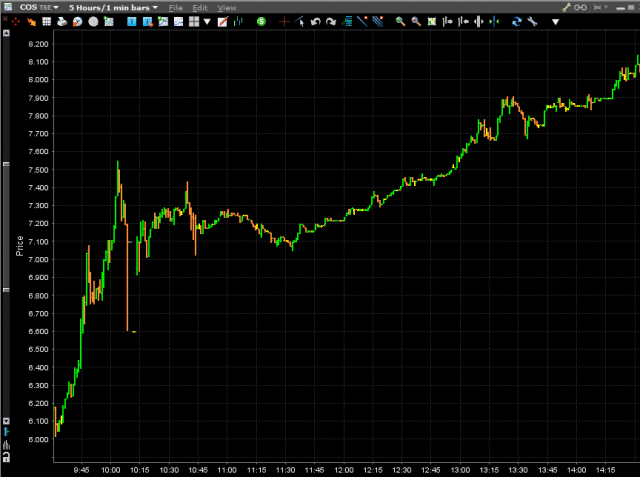 Traders clearly were panicked at the beginning of the day and when they all cleared the exits, the stock rocketed upwards.
The amount of volatility we are seeing in the Canadian oil and gas sector is indicative of the volatility typically seen in down points in the market (see 2008-2009 for a good example of this), but these scenarios typically take months to finish and not days. Of course you have to be there exactly at the day the S&P 500 hits 666 in order to catch the absolute bottom, but the right trade at the time should feel painful.
Right now buying into oil seems like the right thing to do, but the trade doesn't feel painful to make. This makes me very cautious and I will continue to wait.
The other item I am looking for is that audited financial statements are due on March 31st, although companies typically report them earlier. Loan covenants are going to be tested against these numbers and it will be obvious which players out there will be over-leveraged.
The other comment I will make is that most producers seem to be in a waiting game – even Canadian Oil Sands projects a WTIC price of US$55/barrel in their 2015 overall projection. Right now WTIC is at US$47 (the December 2015 crude future is at US$56) so we are not too far off that projection, but the financial modelling of all of these companies (and even the Government of Canada) has an upward bias to commodity pricing. What if this doesn't materialize? As company hedges (note that COS does not engage in hedging) start to expire and companies have to really start digging into their balance sheets to remain operating at existing production levels, eventually you're going to see production decreases. Only until then it seems the fundamentals will sufficiently shift toward higher oil prices.
The trade at that time, however, will be painful. Only then will investors see a superior reward on their investment.
The same applies to currency markets. Right now going against the US dollar seems like stepping in front of a freight train at full speed. I'll be unwinding some US currency exposure if the Canadian dollar depreciates a little more.