When stocks open trading ex-dividend, all things being equal, they should trade at the previous closing price minus the dividend. This can vary slightly depending on what happens in the market overnight, but without any relevant news the price should follow that formula.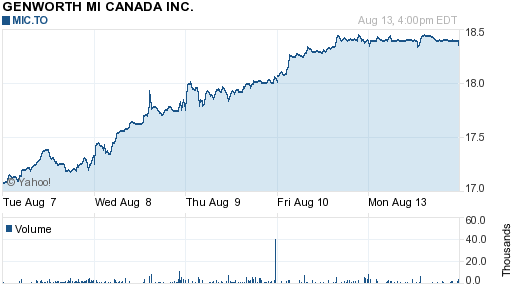 Genworth MI Canada went ex-dividend today, which was a 29 cent dividend, but their opening price did not even make a blip to reflect this dividend.
Yahoo sometimes adjusts the charts to reflect dividends (especially large special dividends), and sometimes it does not. It always pays to find out whether huge price drops are caused by special dividends or distributions, or whether it was purely market action. For instance, EnCana's chart at the end of 2009 is still unadjusted by the Cenovus distribution. In MIC's instance they did not update the chart so what you are seeing is the unadjusted trading action.
I wonder if there are any studies done on future performance of equities compared to how they trade after they go ex-div. Intuitively I would guess there is no correlation whatsoever, but you always hear of amateurish websites that talk about "dividend capture" strategies where you'd buy stocks the day before they go ex-dividend and sell it the day after to "capture the dividend". What they frequently forget is that the market marks down the stock appropriately (not to mention liquidity), but at least at this one time, the market seemed to forget about the dividend.