I thought my previous posts about raising cash were correct, but I wasn't expecting it to be that correct.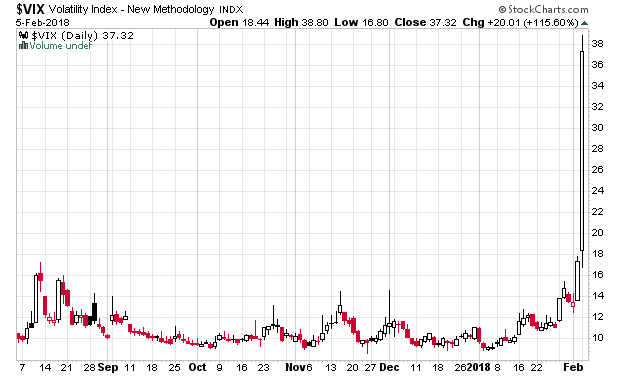 Picking through the entrails of this mini-crash, I actually don't see much signs of margin liquidation – this was an old-fashioned concurrent stampede of trading that wanted to get out all at the same time, and they did it with the high-capitalization stocks.
I didn't see much of an effect on the Canadian market. Normally there is a bit more correlation. I'd expect to see smaller, less liquid issues being sold off as people panic to sell anything to raise capital.
Something else odd was that normally when the market crashes like this, the 30-year treasury bond yield drops a lot, but like the past week, the equity and bond prices (not price-to-yield) are correlated.
This is one of the oddest high-volatility periods I've witnessed. It reminds me of the spring of the year 2000. Normally I should be deploying capital when the volatility index is high, but this is a one-day spike and it is nothing sustained. I would not be surprised at all to see a huge rally up followed by another gut-wrenching crash later.
I already have a list of stocks assembled for purchase if the price is right, but currently, the price is not right.
With the decline of the Canadian dollar, my portfolio (as measured in Canadian dollars) actually rose on Monday.
Finally, the S&P 500 at 2648 means that it is down for the year. I'm finally outperforming again.