The yield curve of Bombardier continues to compress: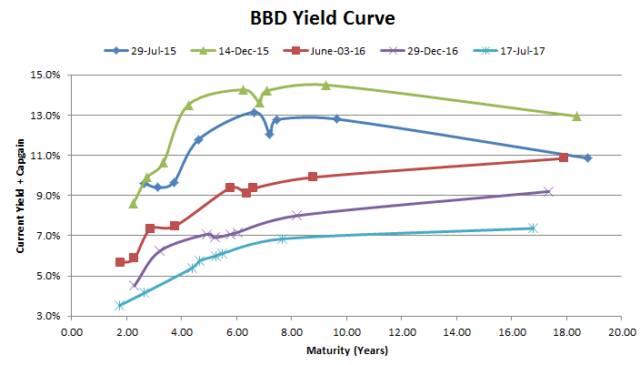 Despite all of the negative press concerning their trade war with Boeing for the C-Series jets, it appears that the credit market is thinking that the credit side of Bombardier is quite secure – offering less than 7% for 8-year money. The company can easily raise capital with its current yield curve.
The preferred shares have had some interesting action lately, and this is because of the repricing of the BBD.PR.D dividend – because of (from the company's perspective) an ill-timed rapid increase of the 5-year Government of Canada yield curve, their BBD.PR.D series will be giving out 3.983% on a $25 par value of dividends. Around July 10th when the market was blissfully unaware of the dividend adjustment (as they apparently didn't read press releases), this would have translated into a 10.8% eligible dividend yield.
It is because of this that the BBD.PR.C series has traded down – there is obvious arbitrage between the C-yields and the D-yields. They were originally trading a full 200 basis points away from each other but this has now converged to about 50 basis points which is more reasonable (BBD.PR.C is worth more if you plan on interest rates to decrease, while the D's are better if you expect them to rise in 4.9 years).
In relation to Bombardier's bond yield curve, the preferred shares looked extremely cheap (especially the BBD.PR.D series at 10.8% yield!). Now it is around 9.3%.
Disclosure: I own some BBD.PR.C and BBD.PR.D.