Something that was a direct result of the US Presidential election was the entire yield curve lifting. The short end in the USA will likely change upwards 0.25% on December 14.
Canadian interest rates are inevitably linked to US interest rates due to the very close economic connection between both countries.
I generally do not profess to have a good radar when it comes to interest rates, but I do observe the trends and notice that the 5-year Canadian government bond yield (which determines most, if not all, rate-resets on Canadian preferred shares) has eclipsed 1.00% for the first time in over a year: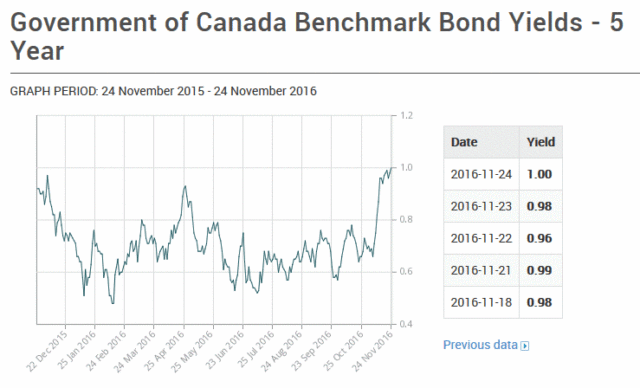 The last time it reached 1% was briefly in November 2015, and then before that it was briefly above 1% in May and June of 2015. Before that it was only consistently above 1% before January 2015.
The question is whether this is a short-term rise up as a knee-jerk reaction to Donald Trump's election, or whether this will be something that will be sustained (and if so, rates will likely not settle at 1% and will head higher). I have no idea what will be happening.