Canopy Growth (TSX: CGC), specializing in the production of marijuana, has gone parabolic.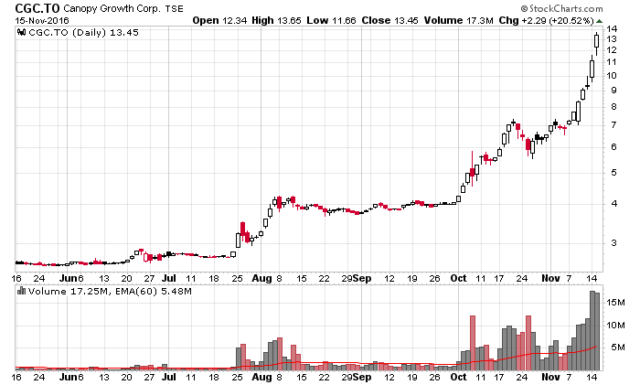 Today, 12.9 million shares traded (about 10% of the company) around a level that valued the entire entity at around CAD$1.5 billion.
Fundamentally, looking at their last quarterly report, they have sold $15 million of marijuana in the last 6 months.
If you (exponentially) extrapolate their revenue growth curve, they will be selling over $1 billion in marijuana in five years.
Somehow, I don't think this will happen.
I am predicting two things:
1. Management is going to do a massive secondary offering. They did two of them earlier in 2016 (raising an 8-digit sum of money), but they will scramble to raise an even bigger amount of money which would pay for a lot of marketing. I'm guessing they're going to aim for over a hundred million. I'd do the same if I were in their shoes, in addition to personally selling shares at the earliest possible opportunity.
2. Eventually, within the next six months, a lot of people are going to lose money on this stock.
Right now, if you are short, I can imagine the pain. Maybe those short on the stock should get a prescription of medical marijuana to ease the pain.
No positions, no intention to take any, but looking at this stock with amusement.