I apologize to my readers. Instead of writing anything relevant to the financial markets, I'm instead writing about Trump vs. Clinton. Please forgive me – this will pass after Tuesday.
The following is my November 3, 2016 guess. My prediction has nothing to do with endorsement of any candidate or policies they represent. In fact, a Kaine/Pence (choose one for president and vice president by flipping a coin) administration would probably be a lot more acceptable for most of the public.
Canadian readers of this site can remember what happened with the NDP and Jack Layton in the 2011 election in Quebec. While it isn't huge like that election was, there is an element of it in this particular election.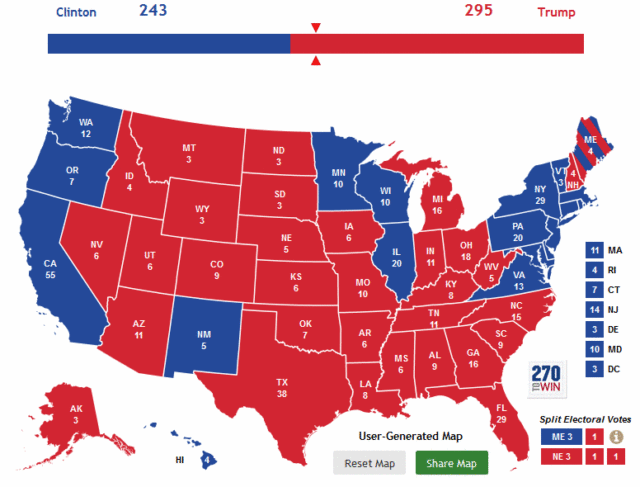 Polling:
If you are Hillary you do not want to see this: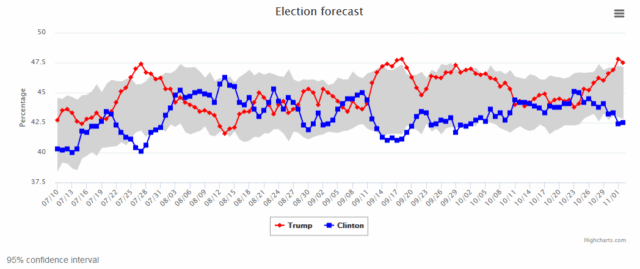 LA Times / USC has always had a pro-Republican skew to it from the very beginning of this election (although they were quite right in 2012), but that "hockey stick" boost at the end is something you don't want to be seeing if you are a Democrat – people locking in their votes for Trump. Since this is a national poll, it can only be extrapolated so far since there are huge Democratic majorities in California and New York, but this isn't what you want to be seeing if you are cheering for Clinton.
The aggregate polling also shows a Trump spike, but I have always claimed that poll samples (including the LA Times one above) is not representative of who Trump is going to actually get out to vote – voter turnout and the distribution of voters that show up is of paramount importance in elections in Canada and the USA.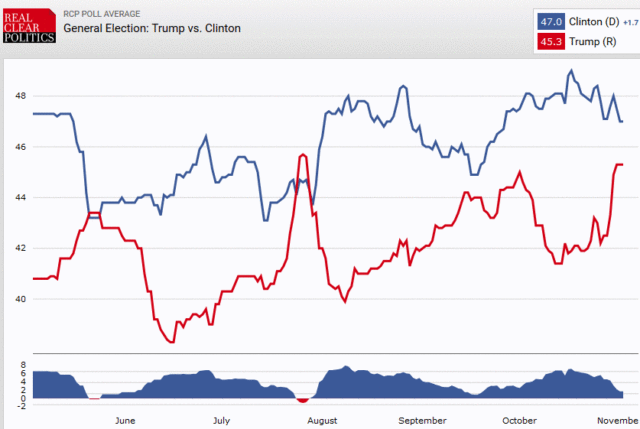 Polls do try to correct for this factor by including "likely voters", but methodologies can only go so far. Since most political pundits use backward-looking lenses to project results, it is not surprising that they are all still predicting a Clinton victory.
The real-money markets (Pinnacle Sports is the best proxy for this) has Trump at +226, which is the highest probability odds I have seen him. Betfair (which is closed to Canadians), I also consider highly credible and they have him as 9/4, which is pretty much the same.