Mark November 8, 2016 on your calendars – the date of the US Presidential Election.
Until then, no major market participant is going to be doing anything, short of the knee-jerk reactions from quarterly earnings reports.
You're also starting to see a build-up of volatility which bettors are using to hedge: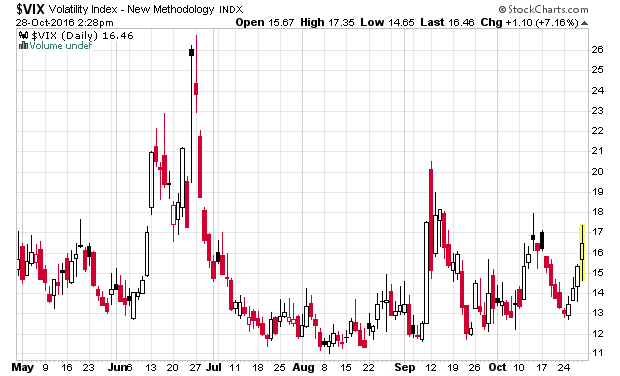 And yes, Donald Trump becomes the next president. This isn't an endorsement of him, but rather what I have been saying for the past year and a bit. This is an election where the standard calculus does not work, and people are continuing to make the mistake of using those lenses in a very different environment (similar to the error that the Conservative Party of Canada in the lead-up to the 2015 election).
Pinnacle Sports had Trump at +580 (roughly 1-in-7) to win a week ago and now he is at +280 (roughly 1-in-4), so the betting markets have been very volatile.
Also I have noticed most Canadians use Canadian lenses to look at what is going on in this very American election. Most of the time the political culture is similar, but this is a very special situation.