One observation: It is abundantly clear that oil and gas producers in North America are going to be trimming their 2015 capital budgets. This will disproportionately affect the service companies, but most of this has already been baked into equity prices.
I have no idea where oil prices will be going in the short term. There is plenty of incentive for those that have already sunk a boatload of costs into their wells to keep them flowing. In the short term you might see some price shocks, but in the medium and long term, I cannot see oil losing too much demand relative to supply levels. While getting into my vehicle and experiencing heavy traffic is hardly a statistical sample that you can extrapolate across the world, intuitively I do not think electrification of transportation is going to be an imminent threat on crude oil (or natural gas) as being the transport fuel of choice. Nor do I see the requirements for plastics or any derivative products of crude being replaced anytime soon.
The point of the preceding paragraph is that crude oil is not going to disappear off the map anytime soon (unlike its predecessor, which was whale oil).
With my very generalized valuation theory on oil and gas producers that "oil prices are a reasonable proxy for company performance plus financial leverage effects", I note that WTIC (West Texas Intermediate Crude) reached the US$80/barrel level back in June of 2012: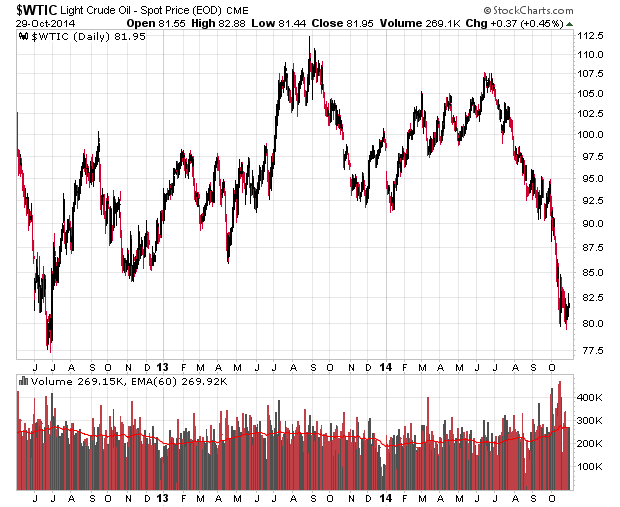 A very simple theory is that oil and gas producers that are trading below what they were trading in June of 2012 should be given a second look to see what caused their relative dis-valuation from present oil levels. A surprisingly large number of Canadian oil and gas companies are trading well above their June 2012 levels despite the oil price difference.
One reason is simply due to good (or lucky timing!) hedging strategies.
Another is due to the mix of oil (and the different types of oil), transport issues, and the percentage of natural gas and natural gas liquids in the revenue mix of a company – in general, while you aren't suffering pure hell at US$2.50/GJ back in June 2012, your typical gas driller hasn't been wildly profitable compared to the good ol' days back in 2008 when you were at US$10.
There's also the simple reason of having excessive financial leverage and not being able to finance the corporation at revenues obtained at current prices.
There's plenty of reasons why an oil and gas company would be trading lower today than in even worse price environments seen in June 2012.
So given everything trading on the TSX, I've done some homework as a starting point and gone through the companies with the following criteria:
– Share price over CAD$2
– Market cap over $1 billion
– Not a foreign entity (although they can have foreign operations).
– Trading lower today than they generally were in June 2012.
We have, in descending order of market cap:
CVE.TO
TLM.TO (not that they've been having difficulties lately!)
BTE.TO
PWT.TO
PGF.TO
TET.TO
BNP.TO
LTS.TO (I was a prolific writer that commented on its ridiculously high valuation when it was known as Petrobakken).
I note that Canadian Oil Sands (COS.TO) is trading barely above what it was in June 2012. This is probably the most purest equity play on WTIC possible beyond putting money in USO (not advisable).
Any thoughts? Comments appreciated.