Typical free advice you hear on other channels talk about the virtues of passively investing in indicies. While putting some money in the S&P 500 or TSX Composite (generally speaking, close-to-the-top 500 and 60 capitalized companies in the USA and Canada, respectively) will likely represent a broad proxy for the corporate profitability of those two countries and over the long haul you will make profits in line with the growth of the overall economy, there are also bad indicies one can invest in.
Such as the TSX Venture Exchange.
Right now it has 385 constituents, and they are not doing so well: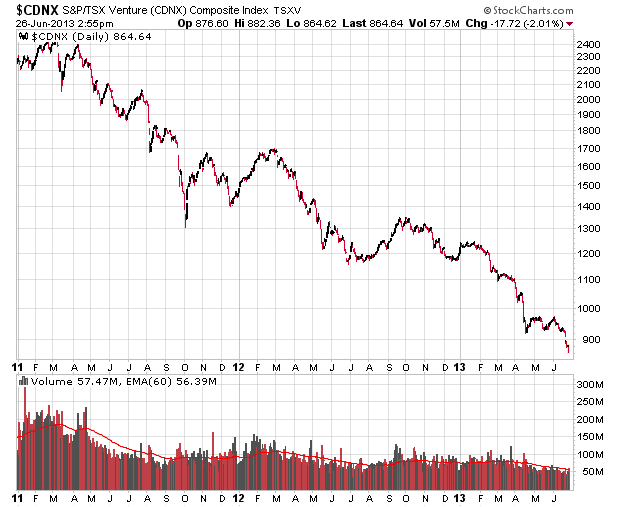 An investor in the TSX Venture index will have lost roughly 2/3rds of their investment over the past two years, while TSX Composite investors would have lost about 15%.
It goes without saying that if you invest in a basket of junk, it doesn't matter how much diversification there is in that basket, you will get junk results. And this is indeed the case for the TSX Venture – it is an utterly failed index.
If you do have to dip your toes into the index, I would highly suggest cherry-picking for firms that have nothing to do with the mining sector. This leaves about 15% of the index (capitalization-weighted). Fundamentally, it seems nothing has really changed since the Vancouver Stock Exchange era where seemingly half the companies involved were just simply there to defraud investors.