Priszm (TSX: QSR.UN) filed in the documentation pertaining to their bridge loan, and when going through it, came up with the following summary as to what conditions the business defaulted on their senior loan obligation: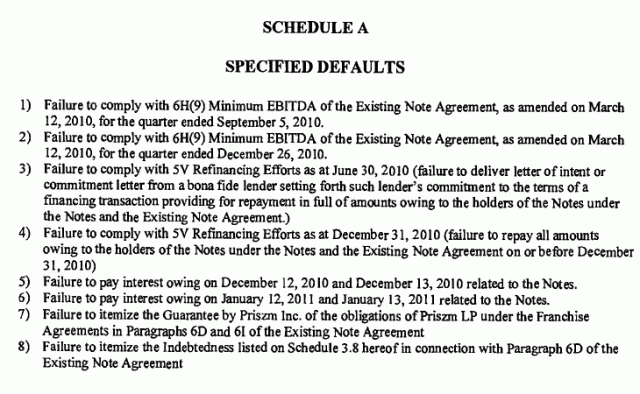 I notice that the senior noteholders are three related companies – The Prudential Insurance Company of America, Pruco Life Insurance Company and the Prudential Retirement Insurance and Annuity company. Whoever was the investment manager that picked Priszm for investment isn't feeling too good right now – and presumably forced to sinking in $4M more into this train wreck in order to salvage the remainder of their investment.
The subordinated debentures (TSX: QSR.DB) traded down today to about 20 cents on the dollar as investors question their sanity for putting money into this venture. To figure out if there is any value left, one has to figure out whether management's motivation is to eventually resurrect the company, or to generate a tax-loss write-off that works in their own favour (and not necessarily investors). One thing that I believe is virtually guaranteed is that the units are nearly worthless.
Disclosure: I own $200 market value of debentures, which I still believe offers a better payoff ratio than the upcoming Lotto MAX.