The first day of trading of Athabasca Oil Sands resulted in a 6% drop in valuation from $18 to $16.90. I had written about my quick researched valuation of the IPO in a prior post, and also said that I wouldn't be surprised if there was a post-IPO "bump":
Once this company does go public it would not surprise me that they would get a valuation bump, and other similar companies that already are trading should receive bumps as a result. I have seen this already occur, probably in anticipation of the IPO.

If you had to invest into Athabasca Oil Sands and not anywhere else, I would find it extremely likely there will be a better opportunity to pick up shares post-IPO between now and 2014.
This kind of surprised me in light of the fact that this was much touted by the media before it started trading and it was appearing as if there would be droves of retail investors that would pile into the stock (before it went down). Instead, it just went down from the start of trading: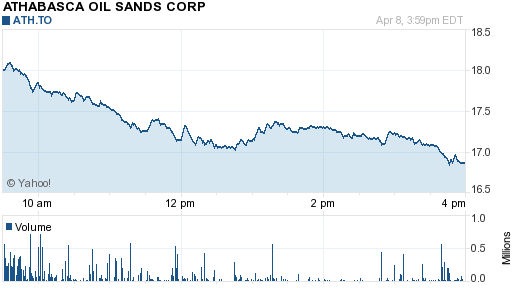 Probably what will be even more affected by this drop in valuation is the valuation of other related oil firms, which might get sold off now that the hype has been extinguished.
Inevitably, Athabasca Oil Sands will be running net operating losses for the next four years, so investors will have to be very patient before they will see any dividends coming from their common equity.