Since Roger Sugar announced its fiscal Q1-2010 results in the middle of February 2's trading day, the stock has been on a relative free-fall: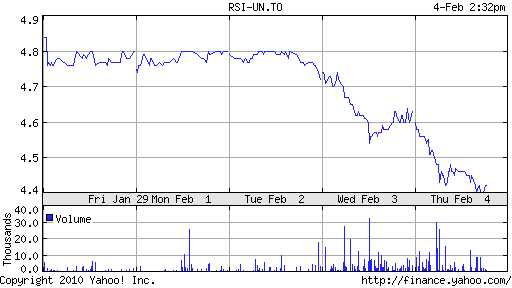 The current price of $4.40 is skimming the bottom of my fair value range for the units and it will be interesting to see if it slides below that.
Normal volume for the units are about 140,000 a day, so it is clear that there is some institution or fund that is trying to unload their units. They are not getting much liquidity in the market, which is why the price takes a dive. Opportunistic investors love to wait for moments like these to add to their positions, although it is difficult to game whether the institution or fund dumping units have half a million, or five million units to sell. If the entity dumping units is interested in selling more, they will be pressing the market further.
I would venture that a disproportionate amount of holders of Rogers Sugar are people that will be holding for a very long time, simply because the units do provide a good flow-through entity for investment capital – at a $4.40 unit price, there is a 10.5% yield and even better yet, the yield is sustainable with true earnings.
I also do not think the announcement of the fund considering a distribution cut because of the income trust taxation due 2011 is new news – all profitable income trusts will be doing the same. From my own investment perspective, it will mean shifting units out of my RSP and into my taxable accounts since eligible dividend income is taxed much more favorably than interest income that comes from the trust.